Gentofte Fire Museum was opened on May 17 in 1987 – on the 85th anniversary of the Gentofte fire brigade. 
The museum is located in a unique building inside Gentofte municipality's old fire station from 1909 on Hellerupvej 5 B.
The Collection
shows the development of the fire brigade from the mid 19th century until today. You can see the hand syringes from the old spraying houses and motor fire engines – including Northern Europe's oldest Danish-built automobile spray from 1919, Triangle syringes from the 1930s and an officer wagon from the 1946.
The Exhibition
There are several elements like fire buckets and water snakes of leather as well as hydrants, fire hooks, uniforms and protective clothing. 
There is also a great archive with historical material.
The work by our members is carried out on a free basis and during the free time.
Our beautiful Fire museum is operating only with the help of volunteers and faithful members, private people, institutions and organisations.
Companies and foundations provide sponsor support for special projects.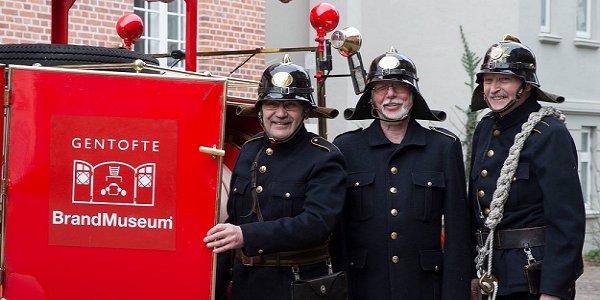 On wednesdays
from 10 am to 2 pm.
The entrance is free of charge.
Visits outside of the opening hours can be arranged beforehand. The price is 600 DKK.
Hits: 3984